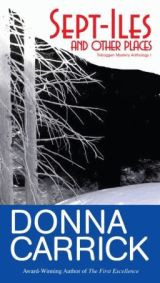 Sept-Iles and other places

A selection of five haunting stories by Donna Carrick — Volume 1 of the Toboggan Mysteries series. Each compelling tale features a Northern locale, with characters and settings that will seem familiar to many readers.
North On The Yellowhead: A tale of love and loss in small-town Saskatchewan. When a thirty-something rock star learns of the murder of her childhood sweetheart, she returns home for a final goodbye. Friendship, heartbreak and the road not taken – in life nothing lasts, not even forever.
Dancing with Carole: Seventeen-year-old Ruth is fond of the young couple next door. When they decide to attend the annual dance, she's happy to babysit their children. Their northern village harbors a secret of murder and deviancy – one that will change Ruth's life forever.
Invasion: Where do we draw the line in our closest relationships? When even our private thoughts come under attack, can we still call it love?
The Night She Died: When Jane and her sister visit their cousin Grace, she enlists their help shelling out Halloween candy. But who is the teenaged girl with the strange silver eyes? And why is Grace suddenly terrified beyond words?
Spring's Last Skate: It's a perfect day in Northern Quebec. Doris and Martha have been skating with their friends. Lunch is waiting in their mother's kitchen. Their innocence, though, is short-lived, as the afternoon holds a horror they cannot yet imagine.
Excerpt
Spring's Last Skate
Northern Quebec in March, where birch trees stand snowy white against a sky that is bluer than sapphire, more pure in its color than Martha's eyes. Clean snow crunched under my boots, its surface just beginning to surrender to the sun's caress.
Off to our left, a ditch transformed itself into a tinkling stream, fed by rivulets from the melting banks. Spring thaw – nature's concession – one more chance at life in region that spends too much energy on dying.
Martha reached for my hand. My red mitten was torn at the thumb, but I didn't mind. The fabric was soaked anyway from playing in the snow. It smelled of wet wool, the deep, organic musk of animal.
My sister's touch was warm, as always, even through the fabric.
I let her lead me home, despite the brilliant sunshine that called on us to keep playing, despite the cheerful voices of the children at the rink across the street. Days like that don't come along often. Their rarity burrows into the grey matter that secures our memories, staking out permanent pockets filled with mental photographs we can recall at any time, regardless of the slippery passing of the years.
Images to hold forever… a black rock jutting from the snow… a jack pine bent against frozen clouds… a worn mitten, offering a gay dash of red in the sunlight… the stuff of recollection.
"Hurry up, Doris," Martha said, pulling at my arm.
I knew the drill. At eight and six years old respectively, Martha and I enjoyed more freedom than many children. Our village in the far north still believed 'crime' was something you watched on television, so long as the cable didn't go out. We were free to run without supervision, skating, crafting snowmen and building forts in the little woods from bits of rotting lumber dumped by lazy contractors at the edge of the larger forest.
There was one caveat to our boundless freedom: we must not be late for meals. Le déjeuner, lunch, would be ready at noon sharp. The undeniable pleasure of dallying in the morning air was not worth our mother's annoyance.