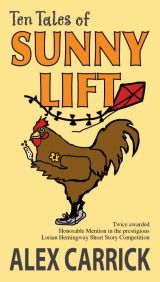 Ten Tales of Sunny Lift

In this fifth volume of his "Ten Tales" series, Alex Carrick pens 10 uplifting short stories that are sure to bring a smile to readers. These delightful tales are full of humor and fun, perfect for when you need a quick "pick-me-up".
Chapter titles include: (1) Proper Young Ladies Should Never…; (2) The Devil Pulls a Fast One; (3) Caboose Follies; (4) The Wise Old Rooster; (5) The Ethical Auctioneer; (6) One Shot in the Hot Seat; (7) The Red-Suit Mistletoe Initiative; (8) The Tooth Fairy Must Work for the Government; (9) Spartacus the Kite; (10) One Fib Too Far
Mr. Carrick is a critically-acclaimed author whose story "The Size of the Skip" – found in "Three Scoops" Is A Blast! – was short-listed for the 2010 Lorian Hemingway Short Story Award. In 2011, he received another Honorable Mention in the world-renowned Hemingway competition for "Caboose Follies", which appears in "Four Scoops" Is Over The Top.
Excerpt
Caboose Follies
**Honorable Mention ~ Lorian Hemingway Short Story Competition**
He'd gotten himself into this mess by volunteering. That's what happens when you're an eager beaver. He'd never been one before and he wouldn't be one next time.
What had he been thinking? Surely he knew better than to draw attention to himself. Oh well, too late. He needed to get on with it.
He also knew there were hundreds of similar articles in those ridiculous magazines one found in variety stores or pharmacies.
On the front cover was usually some pretty young actress trying to move up from teenage roles to adult parts. Some agent had convinced her she'd get more exposure by, frankly, exposing herself.
In bold type spaced along the edge of the photo would be the enticing words, "Take This Test. What Kind of Sex Life Do You Have? How Do You Rate Your Partner?"
Or "Ten Things You Must Know to Maximize Your Pleasure."
In the kind of publication he worked for, there were the same kinds of games, only dressed up in finer garments. He held a junior position with the business section of a well-known Toronto newspaper.
So the question was more likely to be, "How do you rate your boss?" There were usually half a dozen choices. Control Freak; Micro-manager; Motivator; Delegator; Schmoozer; or Holy Terror?
It became more interesting when comparisons were made between management styles and the animal kingdom.
"Is your boss a lion? A dog? A duck-billed platypus? A lemming?"
Sure this was silly stuff, but even supposedly sophisticated readers lapped it up.
Some of the tests were meant to be semi-serious. Most were designed for pure enjoyment.
Fitting into the latter category, and making the supposition it hadn't been done before, an idea popped into his head over the weekend.
How about categorizing workers according to songs about railroads?
When the first several examples came easily, he became overconfident.
It all seemed a huge mistake now. But he'd felt compelled to take action of some sort.