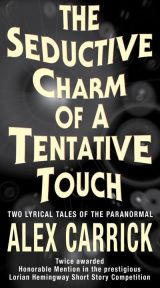 The Seductive Charm of a Tentative Touch

Two lyrical tales of the paranormal.
"The Seductive Charm of a Tentative Touch": A lyrical, paranormal, murder-mystery, love-triangle novella. Meet Isabelle, Wyatt and Oliver, a supposedly college-aged threesome involved in a complicated and disturbing relationship. Situated in the exotic wild-lands north of Superior. Jealous rage, great music and poetic scenery yield chills, shivers and great fun!
"The Melancholy Fog Harvester": A chance encounter during an evening stroll is life altering. A stranger on a bike has mysterious ecological powers and invokes memories from long ago. Two men who have experienced relationships gone bad are able to find solace in each other's brief but revealing company. A mood piece that charms with startling imagery.
Mr. Carrick is a critically-acclaimed author whose story "The Size of the Skip" – found in "Three Scoops" Is A Blast! – was short-listed for the 2010 Lorian Hemingway Short Story Award. In 2011, he received another Honorable Mention in the world-renowned Hemingway competition for "Caboose Follies", which appears in "Four Scoops" Is Over The Top.
Excerpt
The Seductive Charm of a Tentative Touch
Regal and relaxed; five foot six or so; in her early twenties; hair in a pixie cut; flawless light brown skin.
Those were some of the phrases that came to Sylvia's mind as the young woman floated into her store.
Sylvia was alerted by the sound of a bell set off by the opening wooden screen door.
The charmer was wearing a light sleeveless dress with a flower pattern in black and white. It swished and swayed with her every movement.
The stylish sunglasses helped turn her into an exotic and alluring beauty.
One didn't often get a visitation from such a divinity in these parts. Sylvia had owned the part variety store, part video store, part gas bar, part postal drop-off point, part local gathering spot for the past nineteen years.
She wondered if her guest had anything to do with the unusual event of the previous week.
Sure enough, this was soon confirmed.
The young lady looked around, feigned an interest in some of the sparse merchandise, but quickly sashayed over to the serving counter.
Her voice was soft and mellifluous. "Hi," she said. "How ya doin'?" She removed the shades with a sensual practiced flourish.
"Fine, thank you," said Sylvia, kindness embedded in her core. "It's a nice spring day and all's well with the world. I'd have no excuse for not doing okay. And you? How can I be of service?"
Sylvia's curiosity was revved up and eager to leave the starting gate.
"I'd like a pop. It's been a long drive."
This was obviously by way of preamble. 'There's more to come, that's for sure,' thought Sylvia.
"Help yourself. There are some cold ones in the fridge down the aisle. Straws are on the counter."
The young lady was back in a flash. "Sorry to bother you, but I have some questions I'd like to ask and I'm hoping you can help me."
"Shoot," said Sylvia. Managing the limited inventory in her store didn't take much effort and a diversion was welcome.
Sylvia, by nature, was a motherly type. That fact was made manifest by her appearance, from bleached frizzy hair to plain and baggy attire. Expansive jeans hung below a hand-knitted brown sweater.
Her one adornment was a store-bought scarf arranged in what was meant to be a jaunty fashion. Why else to wear it, since warmth had finally arrived in the north country.
'Sylvia's', as it was known locally, was one of only a few commercial establishments in Ashes' Corners. The tiny community was located along the barren stretch of Highway 17 between Sault Ste. Marie and Thunder Bay.
During much of its run, Highway 17 rimmed the northern shore of Lake Superior.
Travelers were usually of two varieties, truckers hauling natural resources and tourists who had resolved to drive across Canada. It was an incredibly long and unexpected stretch of asphalt.
The extraordinary width of Ontario in its northwestern corner remained a secret to most Canadians.
The rugged nature of the landscape was mainly a treasure to artists. There were numerous Group of Seven paintings that famously captured the Algoma region in all its seasonal beauty.
But to live within the vast emptiness was enough to turn anyone garrulous when a stranger appeared.
Sylvia was dying to talk. She waited for the vision's next words with keen anticipation.