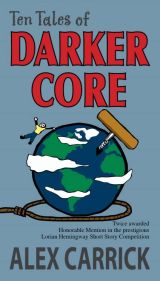 Ten Tales of Darker Core

In this 7th volume of his "Ten Tales" series, Alex Carrick presents a selection of 13 twisted short stories (10 plus 3 bonus tales!) that take a somewhat ironic look at relationships. These mini-anthologies are designed to offer a generous sampling of Mr. Carrick's work.
Chapter titles include: (1) Death of a Mattress; (2) Gravity's Absence; (3) The Frightening World of Drug Disclaimers; (4) An Unfortunate Dog Walking Incident; (5) So You Think You Know Flop Sweat; (6) Pedro Martinez' Incredible String of Good Luck; (7) A Curious Case of Bottled Up Passion; (8) That Would Be Naïve of Me; (9) The Melancholy Fog Harvester; (10) Trap; as well as the Bonus Extras: (11) I Got Robbed by a Liquor Store; (12) Reminisce Once Too Often (13) Forever Running Late.
Mr. Carrick is a critically-acclaimed author whose story "The Size of the Skip" – found in "Three Scoops" Is A Blast! – was short-listed for the 2010 Lorian Hemingway Short Story Award. In 2011, he received another Honorable Mention in the world-renowned Hemingway competition for "Caboose Follies", which appears in "Four Scoops" Is Over The Top.
Excerpt
The Melancholy Fog Harvester
Evening's end was nearing and I'd run out of milk and snacks. Besides, I wanted some fresh air.
That's how it came about I was on my way to the local Daisy Mart before it closed at ten p.m.
You don't get fog in the city much anymore. Too much traffic. There's an excess of thermal currents from the abundance of people, moving vehicles and general busy-rush to keep temperatures on a more even keel.
So when one does encounter it, the moment can be special. This was such an occasion.
The temperature at that time of year was ticking over from winter's frostiness to spring's balmier breezes.
The rain-soaked grass from earlier in the day lay under the caress of a blanketing warmth.
Particles of air that had formerly been invisible were now rendered substantive.
If I left the car in the garage, the journey from my townhouse to the local variety store entailed a short walk of only a quarter-mile.
It was usually a pleasant enough excursion.
I'd jaunt up the roadway in my complex, then make a sharp-right turn parallel to the public thoroughfare heading south. A sidewalk ran along the base of a five-foot fence marking the edge of my neighbors' backyards.
At the bottom of the block was a crossing at a traffic light leading to a mini-mall and my destination.
I could make the trek in my sleep. In fact, that's more or less what I had been doing of late. Ever since my former live-in girlfriend de-camped from my house.
My mood had turned sour with the continuing lack of success in my artistic career. My frustration with lack of recognition was sending my emotions on a roller coaster ride. That's what she said.
My begging her to stay got me nowhere.
Her final words echoed. "Don't bother pleading with me anymore. I'm moving out to get my head straight. But you know we'll always be friends."
In fact, in reviewing my dealings with her, the word "don't" came up so often, I'd begun to think of her name as "Don't."
I couldn't get her voice out of my head.
"Don't start with me again."
"Don't you dare."
"Don't bother trying to explain."
"Don't touch me."
It had become a compulsion, going over and over our old arguments. My mind was in a fog as thick as any literal fog.
I knew very well my bitter reflections were my way of coping. I truly missed her and was unsure I'd ever find contentment again.
I was alone, walking along the pathway in my reverie until, in the distance, a smoky shape appeared.