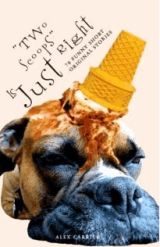 Two Scoops is Just Right

Buy From Amazon, Kindle or Paperback
This book contains more than just stories about the family. Some entries are dappled impressions of modern life. Some are comedy bits, with the odd gem of a punch line. Others are lighter than air and rise up like whimsy. Others still have a slightly more serious intent, with surprising twists.
These funny, short original stories first appeared on the website: www.alexcarrick.com.
Mr. Carrick has been a leading economist in the North American construction industry for over 30 years. In early 2008, he was asked by his employer to put together an economics blog. He approached this with a good deal of trepidation, worrying about whether he would have enough material and if he could do it justice.
He quickly found he enjoyed the experience. So much, in fact, that he began to branch out with humorous lifestyle blogs he was composing on the weekends and at night, just for fun.
It is these entries he would like to share with you.
**
Praise for "Two Scoops" Is Just Right:
5 Stars… A choice pick for short fiction fans. ~ Midwest Book Reviews.
Really funny… If you want a good laugh (and who doesn't) you MUST pick this book up. MUST. ~ The Book Journal
A fun read… If you want a good laugh buy this book, read this book, then buy one for a friend. ~ Barbara Kent, Success Books
Who knew an economist could have a sense of humour? ~ PaulTheBookGuy Podcast
Excerpt
There can only ever be the One Dog
Now that I am in my sixties, I have to work a little harder to remember that snow has provided some of the best moments of my life. Even now, when I'm out walking our dog, Daisy, after a heavy downfall, the beauty can leave me awestruck and feeling young again. The smell of ozone goes straight to one's pleasure centre and the skin tingles. When all is fresh and virgin white, no Christmas card can quite capture the moment.
Daisy is the best dog I have ever had the good fortune to share my life with. She has the nicest disposition and she's also a ranking beauty on any creaturely terms. Her face is what a doggie angel's must look like, if there is a heaven for her kind.
But she will never be the one dog that is all entangled with my memories of youth and fresh-faced fun. That distinction is reserved for Caesar, a lab and boxer cross that was my family's pet when I was a teenager.
I am reminded of this because snow was Caesar's element. He and I would go out into the yard on a wintry day and I would throw snowballs he would chase and catch.
Caesar was an Olympic-calibre athlete. He could jump up, contort and snare just about anything. On days when we'd stay indoors, he was my goalie in the basement. I would fire tennis balls at the wall with a hockey stick and, most of the time, I couldn't get the ball-puck past him.
In summer, at the cottage, Caesar would actually dive under the water to retrieve rocks. Everybody up and down the beach knew him. He was a local character with a stature far above my own.
As much as he was a personality on his own, there are also the memories of what we unintentionally did to him. He was too exuberant. There was no way he could stay out of trouble. Plus my father was a persuasive argument or two short in his dog-whispering skills.
Late at night, if we'd stop for gas on a road trip and most of our family (comprised of dad, mom, my younger sister Anne and me) was asleep, Caesar would manage to escape undetected from the car and we'd leave him behind. An hour later after reversing our journey, we'd return to find him sitting by the side of the road. He never lost confidence that we would come back.
We set him on fire a couple of times. I know how horrible this sounds, but it was easier to do than you might think. Our cottage in the 50s and 60s had a wood stove that regularly needed cleaning. Dying embers would spark out onto Caesar's back and singe off patches of fur. Then we'd have to chase him around with a blanket to smother the budding flickers.