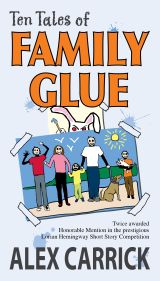 Ten Tales of Family Glue

Ten Tales of Family Glue is the third in a series of short story compilations by Alex Carrick. Sometimes serious but more often light-hearted and almost always insightful, these pieces are sure to entertain and surprise. Skillfully crafted and mainly written to be fun for readers, they can also bring a tear to the eye when the narrative warrants.
Mr. Carrick is a critically-acclaimed author whose story "The Size of the Skip" – found in "Three Scoops" Is A Blast! – was short-listed for the 2010 Lorian Hemingway Short Story Award. In 2011, he received another Honorable Mention in the world-renowned Hemingway competition for "Caboose Follies", which appears in "Four Scoops" Is Over The Top.
Chapter titles: (1) My Wife and I Argue over a Plant; (2) Taking Someone Else's Child to the Cottage; (3) Walking Daisy – Over the Dunes and Around the Bend; (4) Revenge of the Beaster Bunny; (5) My Wife and I Argue over our New i-Phone; (6) A New National Holiday Based on Doing Nothing; (7) Dancing the Family Man Shuffle; (8) Floaty Boat Weekend; (9) There can only ever be the One Dog; (10) Every Family Lives by its Sayings.
Plus three Bonus titles: (11) Marriage and Multi-taking; (12) High Finance, Carrick Family Style; and (13) Donna and I Go Hollywood.
Excerpt
Walking Daisy – Over the Dunes and Around the Bend
I walk our dog Daisy along the beach at our cottage early in the morning on weekends and holidays whenever I can. It's absolutely gorgeous and mostly quiet and undisturbed, except for one thing – other dog owners and their canine pets.
It doesn't seem to matter at what time Daisy and I go out, from 6 a.m. to 8 a.m., we keep running into other owners and their dogs. It's the "brotherhood of the dog" and there are two problems with this. First, I don't want to be part of it. And second, Daisy does. This has led to some embarrassing scenes.
The stretch of beach we frequent on Georgian Bay is about a mile long leading to promontories at either end. We start in the middle and walk to the south point and back. Others follow a similar path or go in the opposite direction. We can pass each other once or twice. This routine, which leads over the dunes, sends me "around the bend".
The other owners and their dogs gather in packs. Apparently they have a lot to talk about and their dogs are best buddies. Daisy and I come along and I have trouble getting her past them. I'm sure I seem unfriendly. Well, actually, I am unfriendly. I'll growl out a "Hello" or "How you doing?", but I just want to move on by.
I need the exercise of a brisk walk. Lollygagging around doesn't cut it for me. Walking the dog isn't the whole focus of my life. I want to get to the point and back, and then go home and have breakfast. Plus the other owners are happy couples or at least convivial acquaintances out for a stroll together. Do you think I can get my clan up and out with me at this time of day?