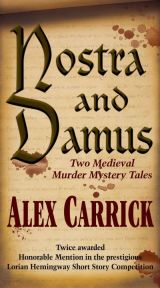 Nostra and Damus

Two medieval murder mystery tales.
"Nostra and Damus": Pure-at-heart sisters confront evil brothers while trying to escape persecution and violence. A medieval short story/novella featuring prophecy, murder and the mysterious power of twins. Intricate plotting and a "gotcha" ending. According to one review, "rich, lavish, perhaps even cinematic".
"Foil's Forsaken Folio": A young actress takes charge of her destiny in a most unseemly way. A story with a modern Shakespeare feel. A medieval murder mystery. GLEE-like with a Hamlet hero, who's living at Lady Macbeth's house. Intricate plotting, lots of fun.
**
Mr. Carrick is a critically-acclaimed author whose story "The Size of the Skip" – found in "Three Scoops" Is A Blast! – was short-listed for the 2010 Lorian Hemingway Short Story Award. In 2011, he received another Honorable Mention in the world-renowned Hemingway competition for "Caboose Follies", which appears in "Four Scoops" Is Over The Top.
Excerpt
Nostra and Damus
Beginnings oft times are brutal. Unfortunately, so are endings.
In between is mostly a race.
A mad dash to grow up, acquire knowledge and earn a living, whether honestly or not.
Events spin out of control. The passing show's a blur.
On the final leg, if we're lucky and fate hasn't already intervened, we race towards death.
By the time the finish line appears, speed has become an addiction.
That's not where Frieda was currently situated.
Her world was only beginning to accelerate.
On this night, both sides of life's conundrum – birth and death – would be in evidence.
Circumstances were intervening, both favorably and with feigned indifference.
Frieda was lying flat on her back in a horse-drawn trailer on a lord's estate.
She was in pain extremis.
Through no fault of her own one of the most natural things in the world was leading towards a frightful denouement.
The contractions had started at sundown, after a long shift of working her crystal ball.
Frieda had been fleecing the rubes in the local village. Their concerns were all trivial matters.
They'd come to her for advice on the most mundane of concerns.
Would my bean crop be plentiful this year?
Where will I find my abiding love?
How can I cure this rash?
She had the potions and spells that could get her into trouble if the law made an appearance. She knew her calling wasn't witchcraft, but others in authority weren't likely to see things her way.
The social structure around which she orbited was fragile and explosive. Violence could break out too easily if allowed a chance.
Two man-made props kept human affairs under control, the nobility and the church.
The biggest fear among her family of travelers was the latter. If the religious authorities came a-calling, Frieda might be dragged off as a sorceress and burned at the stake.
That wasn't the source of her present predicament.