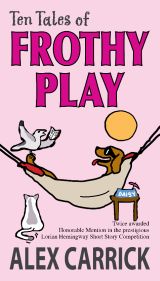 Ten Tales of Frothy Play

In this 6th volume of his "Ten Tales" series, Alex Carrick presents a selection of 13 playful short stories (10 plus 3 bonus tales!) that are sure to delight. These mini-anthologies are designed to offer a generous sampling of Mr. Carrick's work.
Chapter titles include: (1) Bad Starts to the Working Day; (2) For Daisy, Life is a Stretch; (3) The Seagull Poet of Butter Bay; (4) Chasing a Murderer into Polar Bear Country; (5) Knowing when You've had Enough of Your Summer Holiday; (6) Canadian Male Pick-up Lines; (7) Which Letter of the Alphabet is the Funniest?; (8) A Dozen Answers to One Osama Bin Laden Mystery; (9) A Mathematical Proof Economists are Sexy; (10) Ode to Canada's National Game (no, not hockey) as well as the Bonus Extras: (11) Spotting the Space Aliens Among Us; (12) The Most Serious Letter in the Alphabet; (13) Marshall of Cahoots
Mr. Carrick is a critically-acclaimed author whose story "The Size of the Skip" – found in "Three Scoops" Is A Blast! – was short-listed for the 2010 Lorian Hemingway Short Story Award. In 2011, he received another Honorable Mention in the world-renowned Hemingway competition for "Caboose Follies", which appears in "Four Scoops" Is Over The Top.
Excerpt
The Seagull Poet of Butter Bay
In a vision, he'd once seen another seagull in a top hat dancing at the Trocadero. It was the most elegant thing ever. He became entranced by imagery and longed to give expression to his own special voice. There was no doubt. He was a poet at heart.
That's what his girlfriend, Sandy Barr, told him. Never mind, he knew the truth anyway. He was always functioning with his head in the stratosphere. There was something about it that felt so right. He knew it was his true calling.
He was a vagabond, a troubadour, a traveling jester, riding the winds and sometimes performing for his meals. But he had higher aspirations. He wanted to put his experiences in words. His world was something that needed and cried out for sharing.
He'd breathed in autumn's tangy smell from wood-burning stoves; felt the sharpness in the air as winter's cold grip crept in. He'd seen the brightness bloom as spring's healing bonnet led to summer's torpor and absorbed the splintery hues of water in all its seasons.
He knew writing poetry was no path to riches. That was okay with him. Few seagulls achieved worldly success. Jonathan Livingston had been a rare exception. For a while, Johnnie L. had been able to enjoy a high life based on royalties. Then the fortune ran out and existence depended on scraps the same as for everyone else.
Still, he was bothered by some misconceptions about his brethren. The bad thing that humans said about seagulls, that they were all scavengers, was a licorice-hearted lie. Humans thought they were so smart. What did they know? Did they think all his swooping and swirling in flight was just for fun? No, it was sky-writing in 3-D.