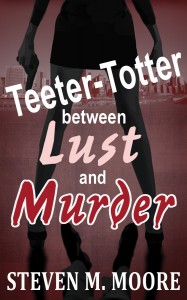 One of the greatest benefits of being an Independent e-Publisher is enjoying the opportunity to meet a myriad of talented writers. Such is the case with my friend and fellow-author Steven M. Moore, creator of the Chen and Castiblanco Detective Series.
In his latest e-novel, Teeter-Totter between Lust and Murder, (Carrick Publishing, 2013) Steve continues the saga of your two favorite detectives as they and their companions fight the corrupting influence of the illegal weapons trade.
When Detective Chen is arrested for the murder of a senator in circumstances that seem to leave no doubt of her guilt, her partner Castilblanco helps prove her innocence.
One of the things I love about Steve's writing is the sheer intelligence he brings to the page. His stories are action-packed and human. They feature a unique view of our world today, and an understanding of the challenges that might lie ahead, should our species survive the coming decades.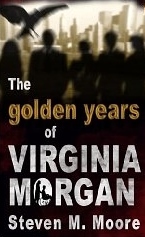 In particular, his thoughtful and thought-provoking style lends itself well to the development of female characters. We saw this most sharply in The Golden Years of Virginia Morgan. (Carrick Publishing 2013)
In Teeter-Totter between Lust and Murder, we see through Chen's eyes the struggle to maintain dignity in the face of dangerous, deeply personal and embarrassing circumstances.
I asked Steve how he has been able to so adeptly portray his female lead characters.
My question: How are you able to incorporate the female POV with such skill?

Steve's answer: I lost my first wife in a car accident and later married again, so I had the opportunity to know very well two strong and intelligent women.

Part of the long answer: Much is revealed in my analyses on "Female Characters" (two blog posts), but I'm a people-watcher, and I watch men, women, and children. I have had many working relationships with strong and intelligent women too (you and Sara included).

Although I believe that the adage "Write what you know" is mostly bad advice (think sci-fi, for example, or most any fiction, for that matter), your characters can come to life if you incorporate what you know about the infinite variation in human beings.

Hmmmm…. Human beings… Well said, Steve. I agree whole-heartedly: any story can come to life when we, as writers, pay attention to the human element. The simplest plot can take on layers of complexity, and can give us cause to think long after we've turned the final page.
Such is the life's work of Steven M. Moore, an author who deserves to be widely-read.
If you haven't yet discovered this treasure of today's Independent Literary world, pay a visit to his Author Page today.
Tell him Donna sent you!


Born in California, Steve Moore reversed the adage "Go west, young man," spending twelve years in South America and seeing some of the world before settling in the Northeast U.S. His travels provided him opportunity to study the people and cultures often portrayed in his work while his scientific background helps make the creations of his imagination seem all the more real

He has specialized in socially relevant science fiction that bridges thriller, suspense, and sci-fi genres. He now dedicates full time to writing with nine adult novels and a novel for young adults–all are sci-fi thrillers. A short story collection is also available.

For a more extensive bio, visit him at his website http://stevenmmoore.com where you will also find an active blog containing op-ed, reviews, interviews, and comments on the writing life, as well as short stories to stimulate your imagination.

Cover Art for Teeter-Totter between Lust and Murder and The Golden Years of Virginia Morgan by Sara Carrick.