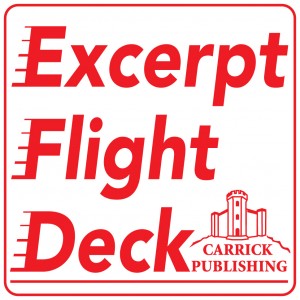 SUBMISSIONS ARE NOW OPEN FOR EFD2: OUR UPCOMING CRIME ANTHOLOGY!
**DEADLINE: JULY 31, 2014**
Effective Thursday, June 12, 2014, we'll begin accepting submissions for our second Excerpt Flight Deck Anthology, EFD2. Now the fun can begin for active members of the Excerpt Flight Deck FaceBook group:
This collection will include short Crime Fiction stories between 800 and 6,000 words in length.
Each installment will be footnoted with an author photo, brief bio, a link to the Amazon author page and/or website link, and an editor's note about the author's use of genre.
This ambitious project is possible thanks to the experience Carrick Publishing has acquired through our own literary endeavors and the work we've done for our Associated Authors .
This exciting opportunity will be open at no cost to EFD group members only.
1- Author must be an active member of the FaceBook group "Excerpt Flight Deck for Readers and Authors", hosted by Donna & Alex Carrick of Carrick Publishing. If you are not already a member, please join prior to submitting your story.
2- Submission must be previously unpublished in e-book or electronic format.
3- Author must possess full copyright and must be the author of the work. Public domain work is not eligible.
4- Carrick Publishing will be granted exclusive copyright for publication and e-publication of the work. This exclusive copyright will remain in effect for 2 years after the date of publication of the anthology. In other words, the author will not publish or e-publish or cause the submitted work to be published or e-published elsewhere.
2 years after the publication of the anthology, copyright will revert to the author and will then be shared by Carrick Publishing and the author.
This is critical to ensure we comply with Amazon Kindle's strict copyright policies. Also, from time to time we may enroll the anthology in KDP Select to ensure broadest exposure. This means it must not be available anywhere else in e-Format.
Once the two-year period has expired, the author will be free to re-publish the work in print or electronically.
5- Each contributing author will receive an equal share of the Net Royalty Earned. Carrick Publishing will retain 50% of that Net Royalty Earned. The balance will be distributed to contributing authors when received by Carrick Publishing.
In addition, each author will receive exposure via Kindle links within the ebook, as well as being offered exposure at our site as an "Associated Author" for not less than one year following the anthology publication date.
The author will also receive full credit as author on the Amazon Kindle selling page, or any other selling page associated with the Anthology.
6- Carrick Publishing will retain this shared copyright and will be free to reproduce the work in other formats down the road if so desired, including but not limited to e-Pub edition, print or audiobook. Author will continue to receive full credit each time the work appears in any format.
7- Crime Fiction Short Stories are welcome for submission. Canadian publishing laws will prevail. (No hate literature or material of an extremely offensive nature will be considered.)
For purposes of this anthology we ask that you eliminate all ultra-violence and explicit sex from your submission. The editors will employ their discretion regarding such issues as strong language.
8- To ensure a high quality product for readers, Carrick Publishing will reserve the right to copy-edit as needed.
9- Size of entries:
Short-Stories: Crime fiction — maximum 6000 words.
HOW TO SUBMIT:
Send your submission in Word doc format to CarrickPublishing @ rogers . com . (Remember to remove all spaces.)
In the subject line say: EFD2 — EXCERPT FLIGHT DECK SUBMISSION
We will be reviewing all submissions in August and will get back to you at that time.
Thank you in advance for participating! We can't wait to see what you've got.
Our very best regards,
Donna & Alex Carrick