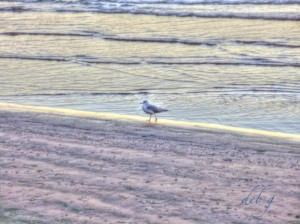 Understatement alert!: The literary world is changing….
Just thought I'd throw that out, by way of introducing my topic: Platform building.
Sounds simple, right? We all want to be heard, to have our words reach readers in a meaningful way. With writers of every stripe rushing into Social Media, how can a lone writer hope to be noticed?
Before we can discuss how-to build a platform, we need to understand what "platform" means. For purposes of this article, "platform" is the building blocks we stand upon in order to be heard.
In other words: The Platform is a representation of Who We Are.
Sounds basic? You'd be amazed how many people struggle with finding a public persona they are comfortable with.
The key is simpler than most will imagine. It hearkens back to the earliest advice many of us received from our parents, the first time we trudged off to school:
Just be yourself.
If we are always "ourselves", we'll never have to remember who we're supposed to be. The people we network with will respond to the integrity they perceive in us.
Ok, we're all poised, ready to "Be Ourselves" in public life. Now what?
The "Nitty Gritty": Even if you can't afford a Web Designer and haven't got a book to sell, that's no reason to hold back. The time to plant those on-line footprints is now. For writers, it's never too early to start "Building Your Platform".
Blogging is a great place to begin our public adventure. What do writers do? We write!
There is no better way to hone our skills than exposing our work early…and often… to the reading public.
No readers? No problem. Write anyway. Your blog will become the cornerstone in your efforts to build a platform.
Tips for successful blogging:
1- Know your topic. Your blog should offer a representation of you as a writer. Your topics may follow a theme, or may change according to your interests. In either case, visitors should always leave your blog with a better understanding of Who You Are.
2- Update regularly. Whatever schedule you decide on, stick with it. Call it a 'writer's exercise routine.' As your readership grows, you'll enjoy repeat traffic, but only if you update.
3- Be visual. Readers today are changing. Treat them to images related to your theme, rather than huge blocks of dry, uninterrupted text.
4- Have fun. If you're enjoying the process, your readers will know it.
5- Be yourself!
Once you have your blog in place, the next step will be "Reaching Readers"!
In Today's Author: Building a platform, Part II, we'll discuss those first steps into Social Media, with emphasis on growing your readership.
Join me for this series at: www.carrickpublishing.com .
Attending Bloody Words 2012? Hope to see you at our workshop on Building A Writer's Platform through Social Media.
Donna is an executive member of CrimeWriters of Canada and the author of three mystery novels as well as a short story anthology. Her titles include: The First Excellence (winner of the 2011 Indie Book Event Award), Gold And Fishes, The Noon God, as well as short story anthologies Sept-Iles and other places and Knowing Penelope.
Donna blogs regularly on the following topics:
Art and the Survivor of Childhood Trauma at www.onfreedomroad.com
Changes and Challenges in the new literary industry at www.carrickpublishing.com
Great Books and Stories at www.donnacarrick.com
and whatever moves me at Writer's Craft.
author services
,
authors
,
books
,
Carrick
,
Carrick Publishing
,
critique
,
detective
,
e-books
,
e-formatting
,
e-publishing
,
ebooks
,
editing
,
fiction
,
formatting
,
great books
,
humor
,
independent books
,
Kindle
,
lifestyle
,
literature
,
manuscript evaluation
,
mystery
,
publishing services
,
self publish
,
self-publishing
,
short stories
,
suspense
,
suspense books
,
thriller books
,
twist endings
,
writers
,
writing