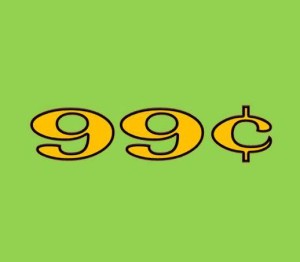 There's been a lot of discussion in author chat groups recently regarding the flurry of Free and 99¢ e-books available through Amazon Kindle, Smashwords and other e-book retailers.
Within the writing community, opinions on the matter appear to be split. Traditionalists argue the low-priced and free e-books are undermining the value of quality books.
Meanwhile, many independent authors and publishers are thrilled with the trend, convinced that, while these prices may not be designed to garner maximum profits, they are a potentially powerful ticket to expanding readership.
At Carrick Publishing we don't claim to have all the answers. In fact, we encourage our authors to set their own prices, experiment and employ strategies that will work for them.
After all, we don't claim any portion of their author royalties. This means they are free to move their e-book prices up and down as they see fit.
With regards to our own 14 titles, the mysteries by Donna Carrick and the short story e-books by Alex Carrick, we only know what works for us.
And what 'works' is keeping e-book prices low, while offering a small selection of Free titles for Kindle, Nook, iBooks and Sony.
Before an author can decide on his most effective business plan, he must first be certain of his goals. We took a good, hard look at ours, both short and long term.
What we realised is this: we're in the writing and publishing industry for the long term. We view our current efforts to reach readers as an investment. We're not looking for a "get-rich-quick" approach to writing and publishing. We're prepared to spend time, effort and even money to establish ourselves as authors and publishers of quality books and e-books.
So for us the current trend toward 99¢ e-books is a golden opportunity. Do we make a ton of money on these e-books? No. But what we gain is far more valuable.
Slowly but surely we've laid the groundwork for our business. We've reached out to a base of quality readers we might never have connected with had we set our prices higher.
We're thrilled to discover that many are repeat readers.
We believe firmly in the unique bond that is forged between author and reader. A good book is a connection that, once made, lives on within the reader's memory.
We also believe in the power of reader satisfaction. Word of mouth is an Indie author's best form of advertising.
That's why we work so hard to present quality novels and stories in a format that is readily accessible at extremely low prices.
Again, I'd like to emphasise that we don't have all the answers. What works for us, low prices combined with a great deal of elbow grease, may not work for someone else.
But it does work for us.
Thanks to the technology of Kindle and Smashwords, we can publish an e-book without lengthy delays. It can be downloaded by a reader thousands of miles away within minutes, and that reader can connect with us through Social Media to share feedback!
It's a brave new publishing world out there. And make no mistake about it: the road to success is not an easy one.
But if you've got the time and the talent, the tools are available.
Our advice to writers: Get out there and publish something. Get your feet wet and find out what works for you.
If, in the process, you discover that you need our help, we'll be happy to hear from you!
Best in writing,
Donna and Alex Carrick