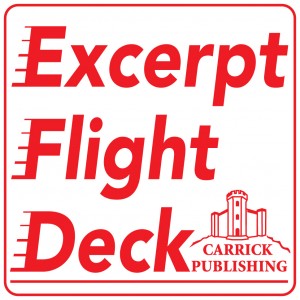 And now, our announcement as promised! This will be of interest only to members of the
Excerpt Flight Deck
FaceBook group:
As soon as our group reaches 200 members, we'll set a date to begin accepting submissions to the first of a series of Kindle anthologies designed to feature authors from across all genres.
Formal guidelines will be established and set out here at our Carrick Publishing site.
We're hoping to include a cross-section of today's writers, both fiction and non-fiction, prose and poetry.
This series will be intended to introduce readers to the vibrant array of authors they might never otherwise encounter. Each author will be footnoted with a brief bio, Amazon author page and/or website link, and editor's note about his/her use of genre.
This ambitious project is possible thanks to the experience Carrick Publishing has acquired through our own literary endeavors and the work we've done for our Associated Authors in the new but expanding e-publishing field.
You can view our Associated Authors page here at our site.
If you or your friends might be interested, be sure to spread the word. This exciting opportunity will be open at no cost to EFD group members only.
Thank you –and please keep the outstanding samples of your work coming!
Donna & Alex
anthology
,
author services
,
authors
,
books
,
Carrick
,
Carrick Publishing
,
e-books
,
e-formatting
,
e-publishing
,
ebooks
,
editing
,
establishing a platform
,
Excerpt Flight Deck
,
fiction
,
formatting
,
great books
,
humor
,
independent books
,
independent writers
,
Kindle
,
literature
,
mystery
,
publishing services
,
self-publishing
,
short stories
,
submissions
,
thriller books
,
twist endings
,
writers
,
writing