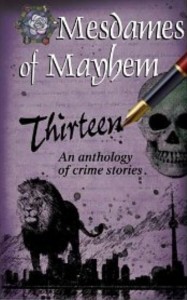 On September 1, Carrick Publishing will be pleased to release THIRTEEN, an anthology of Crime stories by the Mesdames of Mayhem.
But, you may ask, what goes into the creation of such a collection?
First, you need a project manager with a clear, realistic vision; one who can express ideas coherently. She must also possess the ability to excite others, motivating them to meet deadlines and strive for excellence.
Thank you, M.H. Callway, for sharing your creative energy!
Then, you need an outstanding group of authors. These people should ideally hail from various backgrounds, so as to offer a mix of literary 'flavors' that will entice readers and keep them interested throughout the book.
Our exceptional collection will include stories from 13 of Canada's new and seasoned genre authors:
Catherine Astolfo
Rosemary Aubert
Jane Petersen Burfield
M.H. Callway
Melodie Campbell
Donna Carrick
Vicki Delany
Catherine Dunphy
Rosemary McCracken
D.J. McIntosh
Lynne Murphy
Joan O'Callaghan
Sylvia Maultash Warsh
Our gratitude goes out to each of these gifted contributors!
Third, you need a stunning cover. We thank Sara Carrick, graphic designer extraordinaire, for her brilliant work on Thirteen!
Next, you need a core team with unending drive and a passion for words. These people must be willing to put in the hours, toiling to ensure the finished product is one all contributors can be proud of.
You know who you are; thank you.
Finally, selling books is hard work. We'd like to take a moment to thank our own Joan O'Callaghan for her tireless research into the art of book promotion. Joan, your ideas have been invaluable as we rapidly approach our release date!
Donna Carrick — August 23, 2013
Thirteen is an anthology of crime stories by the Mesdames of Mayhem, 13 Canadian Crime writers.
Kindle release: Sept. 1/13
Carrick Publishing
Print release: Oct. 15/13
Carrick Publishing