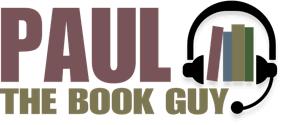 Hi, everyone! What a fabulous Sunday we had. Alex and I packed up the kids and headed out to Port Credit for the South Side Shuffle Blues Festival, where we met with the one and only, outstanding podcast host Paul "The Book Guy" Alves.
Listen to the Sept. 11 show, where Paul chats with us about books, ebooks and the wildly changing publishing industry.
We've known Paul for awhile now, and we are faithful weekly listeners to the show he produces with Greg and Chris. It was absolutely delightful to meet "The Book Guy" in person, though.
Paul, we want to thank you for spending such a wonderful afternoon with us. Sunshine, music, books and friendship — that's what life is all about!
And thanks to your listeners for tuning in!
Our very best to all….
Donna & Alex Carrick
(And Ted and Tammy-Li, too!)