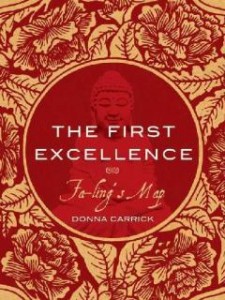 As many of you know, we at Carrick Publishing are firm supporters of the burgeoning independent e-publishing industry. As such, we are often asked to comment on the perceived quality of e-books that appear daily on both Kindle and Smashwords.
Both Alex and Donna Carrick are committed to presenting only the highest-quality e-books for your enjoyment. This means our e-books are thoughtfully written, carefully designed, edited and revised and, finally, beautifully formatted to offer you a reading experience that will please.
Earlier this year we made the decision to lower our e-book prices to $.99 at Amazon Kindle, Smashwords and fine e-retailers everywhere. We did this because we understand the key to successful book marketing is to reach readers — that is the first and vital step. We also offer free ebooks daily at our Daily Give-away page, as well as at our FaceBook page.
In an effort to address some of the questions about e-book quality, Donna has recently begun sampling e-works by fellow-authors.
As you know, we are not reviewers, and it is not our mandate to review books by individual authors. Nor will we ever use our forum to disparage a fellow-author. Having said that, we also do not accept payment for promotion or reviews. We wanted to make that clear, so you will understand when we do share our thoughts, they are unbiased and freely offered.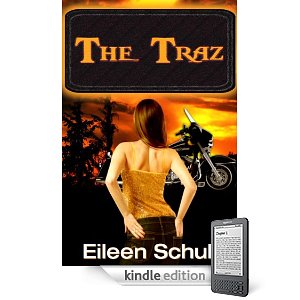 This past week Donna had the pleasure of reading The Traz, installment 1 in the new BackTracker Series by author Eileen Schuh. From the dramatic and appealing e-cover to the powerful and thought-provoking story, this ebook strikes a chord as being on the mark for what e-Publishing strives to accomplish. The book is well edited, beautifully formatted (no, not by Carrick Publishing! Darn!) and well presented by the author. It deals with weighty social issues concerning young adults in our modern world… drugs, alcohol, crime and alienation.
If you visit the ebook's Kindle page, you'll see my 5-Star review dated today. However, Ms. Schuh has had the foresight to go one step further and make her outstanding story available at Smashwords as well. I downloaded the e-pub for my Kobo and was impressed!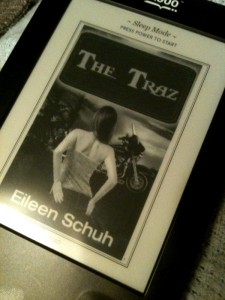 You can see, even in this iPhone photo, how clearly the cover presents on my Kobo e-reader.
All in all, we can recommend this ebook without reservation, based on quality of writing and formatting. The author has done her homework. If you enjoy coming-of-age stories with a gritty, often uncomfortable aspect of street-reality, you are sure to enjoy The Traz.